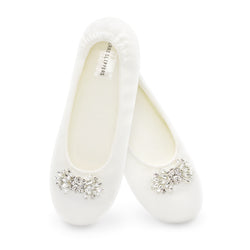 Diana Bridal Slipper
Free Shipping
The vows have been spoken, the rings exchanged, it is now time to celebrate the union with food, music, and party. Get ready to hit the dance floor. Kick off the high heels and slip on these beautiful and comfortable bridal shoes and pirouette in the arms of the groom. The non-skid leather sole will give you just the right amount of grip to prevent slipping as you show off your special moves. The soft memory foam insole hugs the feet in a cozy embrace, cushioning them to prevent fatigue.
The soft satin slip-on bridal slippers are designed to complement the bridal gown and have just the right amount of celebratory bling with a floral rhinestone clip on the toes. The bridal shoes come with a pouch that keeps them safe and makes it easy to carry them discretely.
If you are looking for a thoughtful gift for a bride, then these bridal slippers should be on the top of your list.